As the snow begins to fall and the smell of pumpkin spice seems to fill the air, you (like us) might find yourself scratching your head, and asking: "How is it already that time of year again?" It seems like it was just yesterday that you were scrambling to create and send out holiday cards from your family or business. While it might require some time (and browsing through some online greeting card inspiration), mailing holiday cards really is one surefire way to get your friends, family and clients in the holiday mood. So whether you want to send holiday wishes the old-fashioned (printed) way, online through eCards, or downloaded and embedded in a beautiful email of your own, we've included several options to get you started. From foil-pressed prints to animated videos and custom postage stamps, these greeting card tools are bound to spark some creativity and holiday spirit into your upcoming winter festivities.


If you're looking for ways to be environmentally friendly this year, but still love the charm of sending out 'snail mail,' then Postable is the perfect solution for you. All of their cards are made out of 100% recycled paper. You can either upload your own design or choose from one of the many talented artists available. After you've chosen your style, Postable will take care of stamping and mailing them for you. And if you don't have your recipients' mailing addresses, no worries! This card creation website has a nifty and intelligent tool that can find them for you. The last great feature we simply couldn't leave out is automated cards. This allows you to pre-plan and send out cards on exact dates. For business owners, this can range from holiday greeting cards, to customer birthdays and anniversaries. Basically, Postable makes your job as easy as possible. That sounds like a gift in itself.
Card type: Printables
Key features:
Easily navigable website.Tool to find mailing addresses.Mails cards for you, plus automated cards on specific dates.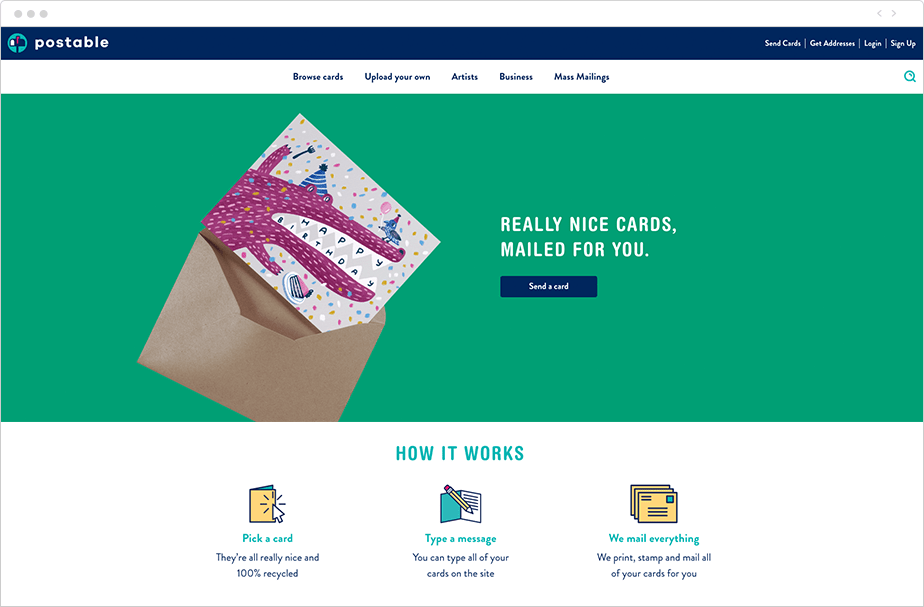 Canva is a graphic design tool, which means that the greeting card customization opportunities can seem almost endless here. With both eCards and printables available, you can easily drag-and-drop any feature from fonts, colors, backgrounds, stickers, photos and more. And if you aren't feeling creative or simply just don't have the time, there are many pre-designed templates available where all you need to do is embed your own photos. Maybe the best gift yet is that the platform costs nothing to sign up, and many of the features are available for free. Once you've finished creating your holiday card, you can print it or embed it in a holiday email to your friends, family or clients. This way, you'll be able to share the holiday joy exactly the way you envisioned it.
Card type: eCards and printables
Key features:
Completely customizable graphic design tool.Multiple card formats available.Free sign up (most features are available free of charge).


As the name suggests, Paperless post is a full-service platform for eCards. After you've customizing everything from text size to colors to typefaces, your eCard is ready to mail out to your loved ones or clients via email. Plus, you can track sent and opened messages and communicate with your recipients via the instant messaging platform. Paperless Post has collaborated with some well-known names such as, Kate Spade, Anthropologie and The New Yorker, which means you'll be ringing in the new year in style!
Card type: eCards
Key features:
Full-service eCard platform.Sync your mailing list and track open/sent messages.Chat capabilities.Original designs from well-known names.


They don't call themselves the "golden standard in online invitations" for nothing. While most card companies allow users to personalize the card message, Punchbowl lets you customize the whole package. This includes everything from the card design to the envelope design (pattern or color of envelope liner), rubber stamp and postage. For most designs, this is all available at no cost to you whatsoever. You can also simplify the whole gift-giving process here by adding a gift card from one of many large retail stores. Once you've crafted your perfect card (and gift), you can send it out via email or SMS. And if you decide to create an "Advanced Membership" account, you can remove ads and schedule specific times for deliveries. Overall, you can provide the most customizable, virtual card-giving experience with Punchbowl.
Card type: eCards
Key features:
Most cards are available at no cost.Customizable virtual envelope.Attach a gift card from one of many retailers.


You're probably not surprised to hear that the world's largest eCommerce site also has their own greeting cards platform. Even better, it's one of the most affordable options, too. This retail giant offers a plethora of holiday-themed greeting cards. As you browse, you'll see just how many options there are, which is why you can filter by: number of photos per card, photo orientation, card orientation, color scheme, and amongst five different brands. Once you've narrowed down your choices, go ahead and add in your photos, personalized greetings, font type, and size. And because it's Amazon, you can bet that delivery is free for most orders (well, orders over $15 or for Prime customers). In summary, if Amazon had a middle name, it would be 'convenience'.
Card type: Printables
Key features:
Super convenient.Affordable costs and delivery.Endless amounts of options.


Would a list really be complete without mentioning the world's largest greeting card producer? We couldn't leave out American Greetings because they take holiday cards to another level by offering both a vast amount of eCards and printables. For eCards, you can choose from one of several pre-created holiday video cards which includes animation and fun jingles. American Greetings is also resourceful when it comes to giving tips on what to write in your personal message (embedded in each card), gift-giving, holiday prep and more – just check out the articles on their website. The best part of it all? All of this is available through a free one-week trial!
Card type: eCards and printables
Key features:
World's largest greeting card producer.Animated eCards.Free one-week trial available (including articles on their website about holiday-related tips).


Artifact Uprising isn't merely a greeting card website, it's an entire photo gift website focused around printing your personal photos. And since it was founded by a photographer, the delicate and thoughtful placement of images throughout their card designs don't come as a surprise at all. For holiday greeting cards specifically, there are over 100 options to choose from. They are all printed on flat, double-sided cards which make them perfect for framing or sticking on your fridge alongside your growing collection over the winter months. You can also choose to add in your own custom message and pick from multiple envelope colors. If words are not your thing, then this sophisticated photo-centric card builder will do all the talking for you.
Card type: Printables
Key features:
Sophisticated designs for embedding your own photos.Printed on 100% recycled paper.Founded by professional photographers.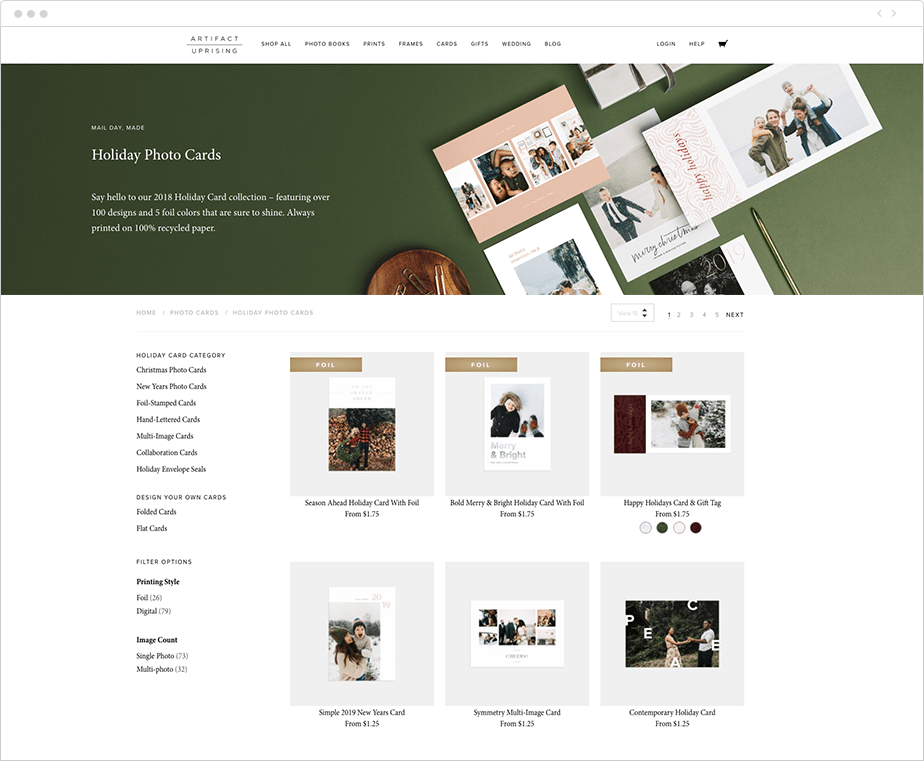 The name "Minted" might make you think of money, but in this case the printable card company is referring to their signature foil-pressed designs. By using real foil texture on many of their cards, the result is truly a one-of-a-kind design that's sure to shine. Other customizable features are silhouette shapes, colors, and sizes. Apart from the beautiful card designs, there are many other aspects of the company that are sure to draw you in. First time web visitors are greeted with a special discount. Minted works with a community of independent designers and offer free custom envelopes and recipient addressing. They also boast a large array of holiday cards available for many religious and traditional holidays, as well as professional options for businesses. And lastly, if you're into ornaments, you can purchase from their line of printables available with a ribbon to allow your recipients to hang the cards on their trees or anywhere else in their homes or offices. Minted sure knows how to spread the holiday cheer.
Card type: Printables
Key features:
Foil-pressed prints.Several silhouette shapes to choose from.Work with a community of independent artists.


Although there are many card creation platforms to choose from, Zazzle is definitely one that will bring pizazz to your recipients this year. With Zazzle, you can create and customize address labels, envelope sealers, and holiday stamps to match your overall card design. This is all possible whether you start from a blank slate with the exact shape and orientation you want, or if you personalize a premade design available. When it comes to uploading your own images, the options go beyond just those accessible from computer files. You can also embed images on your cards straight from your Google Drive, smartphone, or Instagram. Easy peasy.
Card type: Printables
Key features:
Upload photos from multiple places (Google Drive, Instagram, smartphone, or computer).Customizable address labels and envelope sealers.Cost effective.


You've probably already heard of this famous card company, but there might be at least one feature of their online services that's new to you. To start, you can choose from one of thousands of cards loaded with clever, heartwarming, and funny photos, designs, and messages. Then, you can add in your own personal note and let Hallmark display it in a handwritten font style. After it's ready, Hallmark will send it to your recipients on your behalf. If you're not keen on the printable options, there are also eCards available that include handwritten style fonts, along with animated features and music. For an injection of playfulness, check out their 'Collection' section featuring some of the most popular topics around: Superheroes, animals, TV shows, and more. While we're on the topic of fun, browse through their 3D pop-up cards collection. Hallmark is not kidding around when it comes to holiday spirit and fun.
Card type: eCards and printables
Key features:
Choose from well thought out written messages.3D pop-up cards.Personalized, handwritten fonts available.
Feeling inspired by all of this festivity and creativity? Create your own holiday card and share it with us!
*Source by https://www.wix.com/blog/