11 Proven Ways to Monetize Your Blog
For many bloggers, running their site is a matter of passion. The opportunity to share interests, knowledge and ideas with people from all over the world is truly amazing. Since blog writers create original quality on a regular basis, these web platforms are also extremely valuable for improving SEO rankings and substantially strengthening the online presence of individual creatives, brands or organizations.
But as many writers have learned, passion does not pay the rent. On top of that, the responsibilities involved in operating a great blog are highly time-consuming: writing posts frequently, promoting your blog online, sending emails to subscribers, engaging with readers, and more. That is a serious commitment that often constitutes unpaid labor.
The good news is that it doesn't have to be this way. There are multiple avenues for bloggers to earn money from their work. Whether you already have a blog up and running, or whether you plan to start a blog for yourself, consider incorporating one or more of these methods to monetize your blog and earn a nice extra income. Who knows? You may become so successful that monetizing your blog will become a full-time job! Here's how to make money blogging:
01. Offer exclusive access to premium content


Your blog posts offer more than just your opinion. They are a combination of your experience, expertise and unique perspective. People want to read them because they offer special value, whether it's professional advice, life-hacking tips, personal empowerment or any type of training. You've worked hard to achieve this authority in your field, and you continue to work hard to share it with the your readers. It is therefore absolutely legitimate that you charge a reasonable fee to access portions of this great content.
To persuade your readers that your blog posts are worth paying for, you need to keep some parts available for free viewing. Use these free samples as a way to captivate your audiences and get them hooked on your blog. Reserve other posts for paying readers only, presenting these articles as exclusive or premium content. When you prepare your blogging schedule, always take into consideration which posts you'd like to promote as premium, and which posts will be available to all readers.
In your Wix Blog editor, you can easily create sections of the site that are restricted for paying customers only. Use the Paid Plans app to define which pages are considered premium pages, and to set the rates and payment methods.
02. Earn money from online ads


One of the most reliable methods to make money online is to display advertisements throughout your blog and easily collect revenue from the each and every click. The great advantage of this option is that it requires minimal effort from the blogger's end. All you need to do is set up an account with an online ads platform and connect it to your blog.
For the ads on your blog to be profitable – hence, for you to receive more earnings – you want to make sure that they relate to your audience's interests. If your blog deals with health and wellness, your target audience may not feel too tempted to click on ads that promote military memorabilia. Using the Google Adsense app on your Wix Blog, you can actually define which fields, industries and categories of ads should be displayed on your blog to ensure that there's a good fit. In addition, you can also design the look of the ads to match that of your overall blog design.
03. Sell or rent your videos


If your blog is based on video content, or if you can create video segments for your blog (Psst… Here are some fun ideas for adding video content), consider promoting your video posts as a way to monetize your site material. The Wix Video tool allows you to sell, rent and enable the download of your video content under your own terms. You determine the pricing and the can even limit the duration of the video's availability.
When you plan your vlogging strategy, think about the type of content that your target audience will find so valuable that they will pay to rent or own it. Instructional videos are one great example, especially the kind that viewers will consult with more than once, such as complex makeup tutorials or step-by-step coding tutorials. Training videos is another great genre, including all kinds of sports and fitness training. Ongoing video courses in every field – from musical instruments to cheese making – are another excellent example of video content that viewers will be willing to pay for.
04. Connect your blog to your Amazon Associate account


eCommerce giant Amazon is eager to partner with bloggers like yourself to increase sales on their own platform, and it created the Amazon Associate program especially for that reason. By becoming an Amazon Associate, you can start displaying links and ads for Amazon products directly on your blog and receive a commission for every purchase that was initiated from your site.
The program functions like many online affiliate programs, only with Amazon's incredibly diverse product range. To increase profits through targeting, Amazon Associates can choose the products that they display for sale on their websites. Integrating the Amazon Code into your Wix Blog is very simple. All you need is an active blog and an Amazon Associate account. Before you begin, check out Amazon's guidelines and tips for bloggers like yourself.
05. Write sponsored posts


Bloggers are often approached by brands and companies that hope to leverage their platform for promotional purposes. One way to do this is by authoring articles that highlight a specific product or service. The sponsored post usually offers a review of the product or demonstrates how the blog owner uses the product for professional or creative purposes. It's a great way to earn reliable income through your blog, since (unlike with ads and affiliate programs) you know exactly how much you will be making.
If you choose to write sponsored posts, we recommend following a few tips:
Try to get a brand to agree to a series of sponsored posts spread across several weeks or months. This way, you have a recurring and fixed source of revenue.If you plan to approach brands to offer sponsored posts, come prepared! Give a presentation of your traffic stats (what you feel comfortable revealing), and offer ideas for how you would write about their products.Don't try to hide sponsored posts. Be honest with your audience and clarify it with a short disclaimer.Don't compromise your integrity as a blogger in any way that makes you feel uncomfortable. Your readers will pick up on that easily.
06. Get sponsored by a brand


In addition to sponsored posts, another method of obtaining paid partnerships is to get your blog, or even your full online presence, sponsored by a brand. In this method, you don't necessarily need to devote entire posts to writing reviews or recommendations. You can feature the sponsoring brand in your blog's header, include "thanks for the support" notes in your posts and your social media content, and reference the brand's products casually.
This type of sponsorship doesn't impose too much on your creative freedom and can be especially helpful if you find a brand that you genuinely appreciate. When you negotiate your agreement, make sure that both sides are clear about expectations and boundaries, so that you don't end up feeling like you are compromising your work.
07. Write an eBook and sell it for download


If you get visitors coming into your blog and interested in reading your thoughts, why not offer them an expanded version in the form of an eBook? Your eBook can be an elaboration on topics that you cover in your blog, or it can introduce a theme or question that is highly relevant to your target audience. For instance, if your blog focuses on photography and regularly publishes tips for shooting and editing, your eBook could explore the most fascinating locations you have ever worked in and what they taught you about photography.
Think of the eBook not merely as a way to earn some money, but as an opportunity to position yourself as an expert in your industry. Write from your own knowledge and experience, but do so in a way that engages readers, pointing to why and how your experience can be relevant to them. If you're not sure where to begin, check out this article for tips on how to write an eBook.
08. Become an affiliate marketer


A huge number of companies are constantly searching for affiliate marketers to promote their products online. Why not join them? As an affiliate, you earn a commission for every click, every lead or every product sale that originated from your blog. From the perspective of both website owners and of the brands, affiliate marketing is a win-win situation.
This performance-based revenue works best when the blog and the company share the same target audience. Find a company that you believe your readers might actually be interested in. Otherwise, you're reducing your chances to drive leads and sales. Having this affinity with the brand also means that you will be able to promote it better. When you can find ways to connect the product's value with your organic content, you make a stronger sales pitch.
If you're interested in trying affiliate marketing, check out Wix's Affiliate Program to learn about how you can make money by partnering with us.
09. Offer personalized training or coaching


As we emphasized already, one helpful way to think about monetizing your blog is to look at the blog as a platform where you introduce yourself as an authority in a certain theme, and a place where you share your insights with others. Visitors come to your site because they are genuinely interested in what you have to say. Why not offer them a personalized learning experience in the form of training or coaching?
For example, if you use your blog to share your passion for gardening, you could offer one-on-one video sessions supporting people's efforts to garden themselves. Or if your blog documents your worldwide travel, why not suggest customized travel routes to customers based on their interests and budgets? Regardless of your field of expertise, there is always more than one way to convert your knowledge into useful training for others.
10. Sell merch


In today's digital culture, bloggers are superstars. Some bloggers become so iconic that they even create a market for branded products inspired by their content! Tech YouTuber Marques Brownlee's merch store is replete with great fashion and tech accessories. Online yoga entrepreneur Candace Moore sells both yoga clothing as well as branded notebooks, mugs and more.
You, too, can consider adding an online store and sell different types of merchandise that is related to your blog's themes. If your blog attracts a wide readership, you can even sell branded products to promote your blog and your online presence more generally. Wouldn't it be neat to see people in the street wearing shirts with your logo?
11. Promote your blog to increase exposure


All of the methods that we discussed so far will not yield much of a profit if your blog doesn't bring in enough traffic. For your blog to be profitable, you need to make sure that visitors keep coming, and the best way to do so is to actively promote it. Here are three key actions to take:
Work the social networks: Blogging and social media go hand in hand. You want to put in a good effort on your social profiles to gather followers, create excellent content and refer visitors to your blog. If you create an interesting social presence on YouTube, Instagram, Facebook, Twitter or LinkedIn, you will be able to drive traffic into your blog in no time. Check out these tips for promoting your blog on Facebook to get started. Some of these tips will apply to other platforms as well.
Use email marketing: Newsletters are a great option to keep your audience engaged. Promote your latest blog posts by sending out captivating emails and you'll see traffic increasing each time. You can use Wix ShoutOut's gorgeous newsletter templates to start.
Optimize for search engines: Attract more clicks from search engine results by tweaking your blog's SEO. You can optimize the overall website as well as individual blog posts to bring in quality traffic of relevant search terms. Check out this SEO for bloggers guide for valuable steps you can incorporate into your SEO strategy.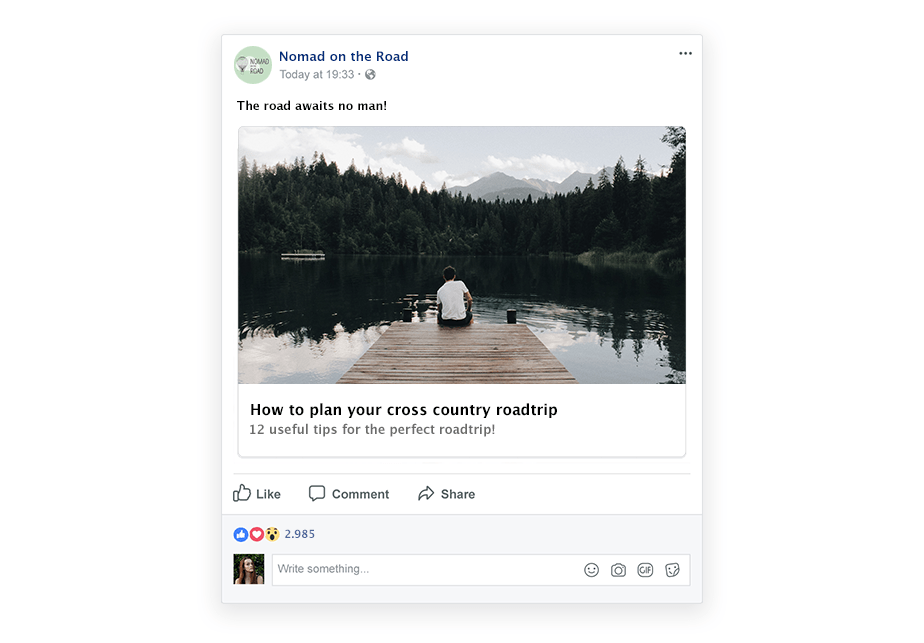 *Source https://www.wix.com/blog/