Whether you're just beginning to create your very own podcast or you're looking to grow your existing one, where you decide to host your podcast is a subject that will need to be put on the table. In case you needed a quick reminder, a podcast is an audio file available on the Internet for downloading to a computer or mobile device. Usually podcasts are available as a series of episodes revolving around a particular theme. Because the Internet is filled with many places to store and broadcast your work, it's important to know from the start what you can expect to get out of the podcast hosting site you choose.
Luckily for you, we've rounded up a list of the best podcasts hosts around. Plus, we've reviewed each platform's unique features so you can select a host that truly shows off your storytelling skills.
01. Wix Podcast Player


While the Wix Podcast Player isn't a traditional hosting platform, it's certainly one of the easiest and most stylish ways to showcase your podcast on your website, no matter where your host is. The best part is that the initial setup just requires your podcast's RSS feed URL. From there, the Player will do the rest for you!
Like magic, the Player will begin populating the page with your logo, all of your episodes, and their accompanying photos and descriptions. Plus, it will produce a set of dynamic pages, meaning it instantly creates a page for each episode along a uniform format. Therefore, each episode will open in its own page, yet the design will remain consistent throughout – all with zero work on your end. After it's set up, you can go ahead and customize the player's style and design so it merges well with the rest of your site.
Key features:
Feature and stream your podcasts, all in one placeEasily connect your site to hosts using RSS feedsInstantly create show feeds and episode pages

02. Libsyn


You'll see Libsyn at the top of most 'podcast host' lists online, and for good reason: It's pretty great. It's been around since podcasting first broke onto the scene, it provides a fantastic set of features, and it is competitively priced. While there are other hosts out there that offer a similar feature set or even better pricing, the combination of a longstanding (positive) track record and multiple plans to choose from, depending on your needs, make Libsyn a good first stop in your podcast hosting search.
Plans:
Libsyn offers a handful of different plans, each increasing in features as you go up. Plans range from $5 a month to $75 a month and the primary change between plans being storage options (with caps from 50MB to 1500MB).
Key features:
Custom mobile appYouTube publishingAdvanced analytics
03. SoundCloud


You've probably heard of SoundCloud before, but it wouldn't be at all surprising if you didn't know it's a popular podcasting host as well. In reality, it's not a surprising move for the company. While it's primary focus is music, it has positioned itself to be a podcast hosting company without ever really intending to be. SoundCloud's popularity for music gives it a 'mindshare' advantage that a lot of names on this list simply can't compete with. That said, popularity doesn't mean everything and some may find this offering isn't exactly what they need. Case in point, as a premium user of SoundCloud, the analytics are lacking quite a bit. If you are someone who wants to dive heavily the analytics of your pod, you may want to look elsewhere.
Plans: SoundCloud keeps things simple with only three types of plans. A free plan with a three-hour upload limit per month, an $8 a month plan that doubles the upload time of the free plan and adds some goodies, and a Pro Unlimited plan that allows for more upload time, scheduled releases and more.
Key features:
Free plansTimed commentsTwitter cards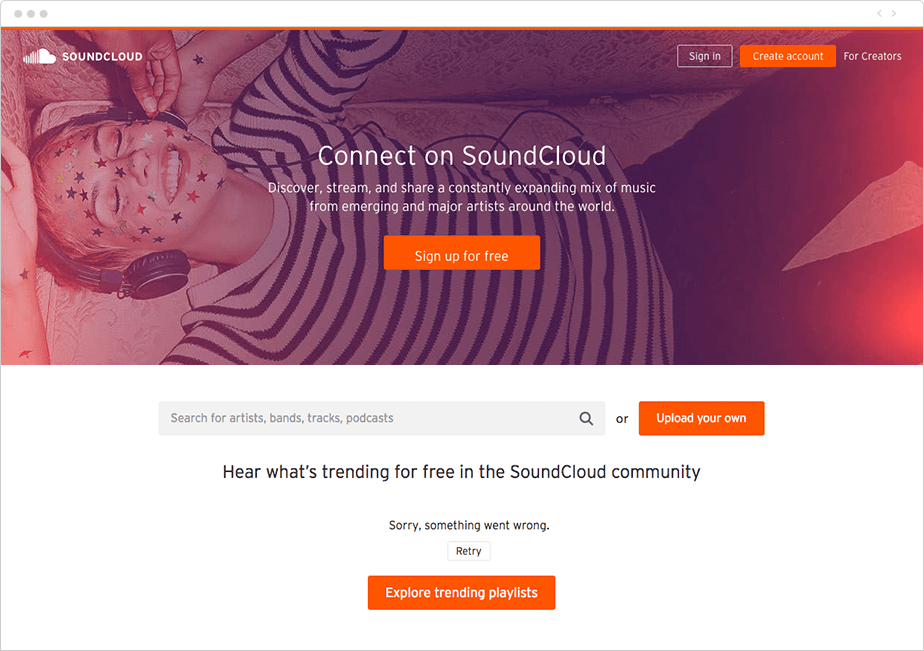 04. PodBean


PodBean's user-friendly interface allows you to upload, publish, manage and promote your podcasts with just a few clicks of your mouse. But what really sets them apart from the crowd is its Crowdfunding options for those more serious creators looking to make moolah from loyal listeners. In terms of capabilities, the platform is simple and intuitive. One major advantage of casting your lot with PodBean is that your podcast is included in their network, adding another layer of discoverability for you.
Plans:
PodBean comes with four different plans to choose from. Its free option is a no frills, straight forward five hours of audio uploaded a month, with 100GB of bandwidth. It also comes with basic stats, customizable players to embed, and your own podcast landing page site. The first paid tier, Unlimited Audio, introduces paid monetization, increased upload hours and bandwidth to unlimited, plus a few more services. If you're a beginner, you will most likely find what you're looking for between the first two paid options. However, if you've got some exemplary podcasting skills under your belt and are looking for ways to grow your podcast or need extra business tools, PodBeans's latter two paid options will be more fitting.
Key features:
Monetization capabilitiesAlexa integrationFree plans
05. Spreaker


From it's website, description of its features and the layout of its plans, literally everything about Spreaker feels professional. One thing that sets them apart from most of the other hosts on this list is that it gives you 'unlimited daily sessions,' allowing you to start a live stream as many times as you want per day. The length of time you can keep the live stream going is indicated by the plan you're on. While this isn't something everyone is going to use or even care for, it's a pretty nifty and unique feature to have (freely) available to you. Outside of its unique 'live' feature, Spreaker offers up the expected features any budding or expert podcaster could want, with a focus on marketing and other professional services.
Plans: Spreaker's plans range from free to over $1000, but the value per plan increases significantly as you go up. The first pain plan, called On-Air Talent, increases daily session limit, audio storage, and allows you to distribute your content via iHeartRadio and Spotify. The more expensive plans, Broadcaster, Anchorman, & Station, all increase daily session limit, storage, and improved analytics, marketing and monetization tools.
Key features:
Chat while streaming liveiHeartRadio distributionAd-free pages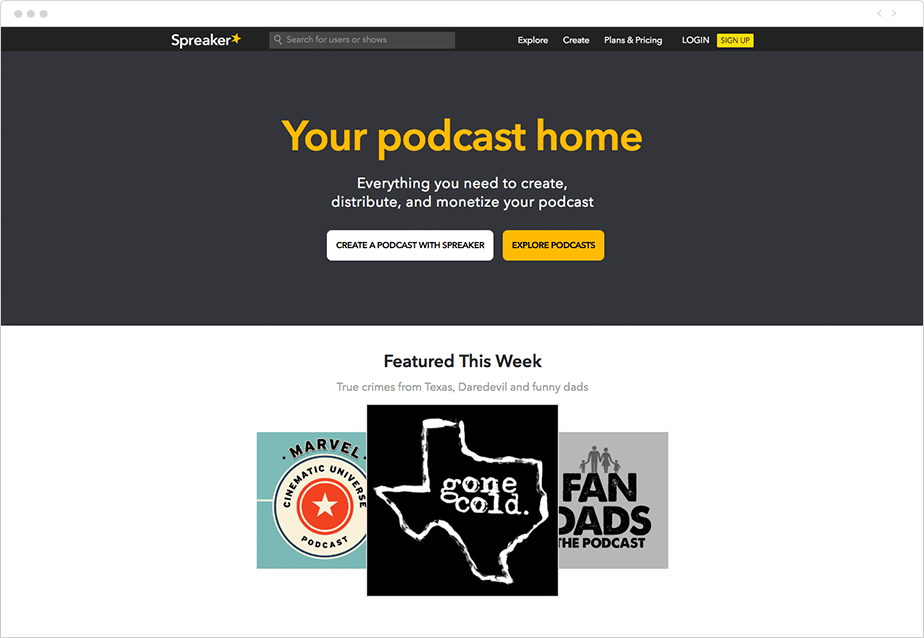 06. Buzzsprout


Buzzsprout's name is usually found on lists of top podcast hosts, and is credited for its ease of use. It's a modern service designed to keep things simple. The platform brings exactly what a podcasts needs to the table and then some. It includes all the good stuff like, stats, easy migration amd embedded podcast players. Their well-designed dashboard makes it easy to upload and publish your episodes. On the flip side, you can also schedule shows in advance. That way, your listeners are never neglected. If you're the obsessive type about stats, then you'll love the mobile dashboard which includes the option to manage promotions and keep a close eye on your numbers no matter where you are.
Plans:
Just like the platform itself, Buzzsprout offers simplified paid plans. There is a free plan that allows for two hours of upload a month, and three paid plans offers increased storage ranging from three to 12 hours a month. The most expensive of those paid plans still only reaches $24 a month. However, instead of having a hard cap of audio hours, Buzzsprout will simply charge you for additional hours. The exact amount you are charged per extra hour is dependent on the existing paid plan you have. It's a nifty feature to have just in case one of your podcast episodes runs longer than expected.
Key features:
Free for 90 daysMobile friendly dashboardEasy migration from other hosting platforms
Feeling creative and ready to boost your online presence? Create a stunning website with INTELLIGENT today!
*Source https://www.wix.com/blog/